LinkedIn

Last week, a business development rep at Coupofy emailed me this infographic she designed. It displays the number of social media users for there are in real time for Facebook, Twitter, YouTube, Tumblr, Google+, Instagram, Pinterest, Reddit, and LinkedIn.
What can I say? It's really cool.
You can see how many users there are by the second, hour, day, month, or year. Since it's always up to date, it's worth bookmarking for future reference.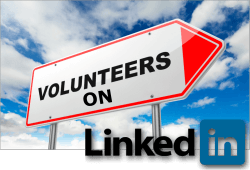 LinkedIn isn't just for networking and job searching. It's an excellent untapped resource for nonprofits looking for volunteers.
Before you spend money or time marketing to prospective volunteers, take a look at your LinkedIn connections. Under the category of Opportunities [Name] is looking for, you can often find people's volunteer objectives. And, in the Volunteer section under Volunteer Experience & Causes section, you'll see which organizations they have volunteered for and which types of causes for which they have a passion.
Many LinkedIn members are willing to offer their professional expertise. Here are the two volunteer options: