responsive design
Guest post by Marlena Stoddard

Websites used to be low-priority expenses where businesses mostly shared contact information and a little about their services. Now, company websites need to make positive impressions with thousands - or hundreds of thousands - of visitors.
In today's market, it's not enough for your website to merely "do the job;" it has to satisfy your visitors' needs and desires. Here are five things that will make your website work for your customers.
1. Responsive Design
Responsive design is website programming that adjusts the layout and sizes of web page elements so that they work on different-sized screens and devices. Since as many as two-thirds of people would rather interact with beautifully designed content than content that is plain or lackluster, it's important that your site is well designed. Continue reading →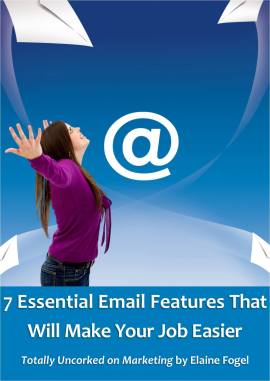 Is your email service provider meeting your marketing expectations? Does it offer you an intuitive system that's easy to navigate and design - especially if you don't have design and/or marketing skills?
I am now in the throes of transitioning from one ESP to another. I had been with the same company since December of 2009!! Talk about being a loyal customer. But, things have changed, and I needed to change, too.
I have tested so many ESPs over the years and discovered flaws or missing features, hence my reluctance to switch. And, I have about 70 ESPs bookmarked, so it's not like I didn't try!
That's why I decided to share what I've learned. Here's my list of seven features you should consider when choosing your email service provider: Continue reading →