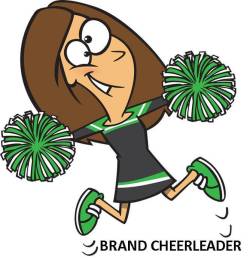 Who are the people who say good things about your business or nonprofit organization? Do you know?
With 84% of us trusting word-of-mouth recommendations from friends and family* (far more than any other form of advertising), are you missing out on opportunities?
According to a recent article in SmartBlog on Social Media by Doug Pruden and Terry Vavra, brands are ignoring something important. 
Most brands are ignoring some of their potentially fiercest advocates and a huge opportunity to increase awareness, consideration and purchase intent with little cost."
The authors mention another article by Francesca Heath, the global communications director for EngageSciences - the company that did the research the authors reference. The report shows that only 4.7% of your social media following generates all of the word-of-mouth results - conversions, not just reach.
According to Heath, "These are the advocates that can actually influence their friends to convert directly onto your campaigns, to connect with you as a brand or take up an offer."
Not that we are ignoring the other 95 percent, there is still plenty of value in this large segment. They're connecting to you as a brand, the active fans are consuming your content and they are 20-30 percent more likely to buy from you as a result.

But if we are looking at social media through the eyes of marketing and we want to improve our acquisition metrics, then it is the top 4.7 percent that generates all of the earned media results and organic growth."
The problem says Heath, is that most brands don't know who makes up the 4.7%.
Pruden and Vavra have some recommendations:
We think the best advocates usually possess:
1. Behavioral commitment — "Fans" aren't the same as customers. Someone who visits a Facebook page hoping to win a prize or get a product discount can hardly be expected to generate a recommendation for the brand.
Further, not all "customers" are equally committed to a brand.  Yours could be just one of the 3 or 4 brands they buy, they may not have purchased for months, or they may only buy your brand when it's on sale. The best potential advocates typically display a dedicated purchasing history.(For nonprofits, this may translate to donors, volunteers, and funders.)
2. Emotional connection — Even those who appear behaviorally committed to a brand may buy only out of habit, or because the product is more readily available, without any kind of emotional glue needed for advocacy.
3. Good communications skills – Let's face it, not everybody is comfortable or particularly good at communicating with others in writing or verbally.  No matter how behaviorally committed to the brand, and no matter how much they are emotionally connected, if they lack what we like to call the "communicator gene" they won't act as brand advocates.
Pruden and Vavra advise organizations to keep a solid customer database that includes some form of buying history such as recency, frequency or monetary value. (Nonprofits can use the same values using donations.) Then, establish a criteria to select those who have proven themselves to be most "behaviorally committed" to your brand.
They also suggest contacting those with the strongest behavioral commitment. After questioning and screening, you can rank them based upon their brand advocacy potential.
So, are you evaluating your social media fans and followers? Do you know which ones are your strongest brand cheerleaders? If not, try this approach and report here how it goes!
*Nielsen Global Trust in Advertising report 
Share this post!
















Connect with me!








Liked this post? Follow my blog for more.