TV spot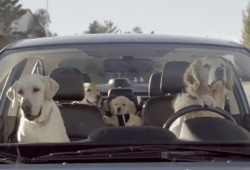 Every once in a while, a TV spot or ad makes me laugh out loud. When it does, I remember it and may even share it.
That's the case with this 2014 Suburu commercial that's still in rotation. Its creativity and use of dogs makes it memorable and long lasting. (You know what they say about using kids and dogs, don't you?)
According to Millward Brown, "Some form of humor is used in almost half of all TV advertising, where it often contributes to very effective ads. Humor can make ads more enjoyable, involving, and memorable."
There's a down side, however says the marketing and branding company. "If the humor distracts from branding and communication, … Continue reading →
When I heard this story and watched the newly-released response video, I got goosebumps all over. I knew I had to share it with you.
Backstory:
In early March, Honey Maid launched a 30-second TV spot entitled, "This is Wholesome." The spot featured diverse and loving families -interracial, gay, white, black, brown, and a dad covered in tattoos. It represented what North America really looks like.
Soon after, a barrage of angry messages arrived. "Disgusting," "Do not approve," "Horrible."
So, here was Honey Maid's amazing response:  Continue reading →