company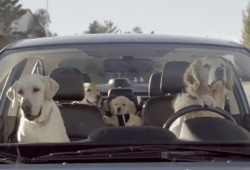 Every once in a while, a TV spot or ad makes me laugh out loud. When it does, I remember it and may even share it.
That's the case with this 2014 Suburu commercial that's still in rotation. Its creativity and use of dogs makes it memorable and long lasting. (You know what they say about using kids and dogs, don't you?)
According to Millward Brown, "Some form of humor is used in almost half of all TV advertising, where it often contributes to very effective ads. Humor can make ads more enjoyable, involving, and memorable."
There's a down side, however says the marketing and branding company. "If the humor distracts from branding and communication, … Continue reading →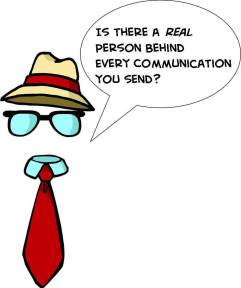 How many times have you received an e-mail or letter from a company or organization without an individual's name at the bottom? You know… all that's there is the organization's name or a person's title without a name.
Well, boo to them! Do they think that we'll feel endeared to them if they don't identify a real person behind the communication?
I recently renewed my membership in a professional association.  I realized that it was my tenth anniversary as a member and wondered why the association hadn't recognized the milestone. What a great way to steward member relationships and show appreciation. I've done work with associations before, so why not share a good idea that's common practice in other groups?
When I went onto the organization's Web site, I could NOT locate a staff contact list so I could pass my suggestion to the VP of membership. Instead, the only contact email was "info@."
Here was the response I received:
Thank you for your email. We truly appreciate your taking the time to provide feedback and suggestions. I have referred your inquiry/suggestion to the appropriate staff for follow-up and consideration.

In the meantime, if you require additional assistance, please feel free to contact us again. Your support of XYZ is greatly appreciated.

Kind regards,

XYZ Association"
No signature. No person at the other end. And this, from a membership organization!! Come on.
And, what's worse is that I am unsure that anyone else will follow up with me because I do not have a referral contact name! Talk about feeling dismissed.
What are organizations afraid of? That we'll learn their staff contacts and harangue them? That our communication to them will kill their productivity? That's a very internal mindset, don't you think?
My Advice:
Make sure that there's a real person behind every communication you send. When customers, donors, members, etc. need someone to contact, they want the convenience of hitting the "reply" button, or calling on the telephone and asking for a specific individual. Don't send them on a wild goose chase or to your designated gatekeeper because it's convenient for you internally!
Otherwise, your organization appears stand offish and distant. And, is that the brand experience you want to impart? I didn't think so.

Sometimes, no matter what you do to serve your customers, clients, donors, etc., sh*t happens and it's just bad luck. I get really frustrated when that happens because my company works hard to delight our clients. But, like many of you, you can't win 100% of the time.
I am now managing a client relationship that I value. The nonprofit client hired us to copywrite, design, and print a corporate-style brochure. The process took over a year and we worked with two staff liaisons who have since left the organization. We made more copy revisions and design layout changes than stated in the client agreement, but we never asked for an additional penny.
Why not? We believe in the organization's mission very much and have made donations to support it. Everything went well with the copywriting and graphic design, and if I say so myself, I am proud of my work on that. Where we ran into trouble was with the printing process.
The Problem
One of our main trade printing suppliers got bought out by another supplier and we weren't aware of it until we had problems with this offset brochure print project. The supplier acknowledged the errors and indicated that it would re-print the brochures, which it did.
We apologized to our client profusely and took the initiative to send the organization some complimentary digital brochures, from a different supplier, to tie them over while we waited for the offset re-print. Unfortunately, our client was displeased with both the digital brochures and the re-printed offset brochures. So, we are waiting to see samples of the re-printed brochures before taking the next step.
Of course, I feel awful about the situation. I'd like to continue the client relationship and win back the organization's confidence. We simply ran into a supplier snafoo and it has affected the client's perception of us. We care about the client and want to help the organization with its subsequent marketing collateral, but, have no idea whether we are toast now or not.
Why am I sharing this story with you?
Because no matter how good we may be at what we do, sometimes s**t happens and we are at a loss. We are often dependent on others to fulfill our responsibilities to customers. So, even when we go above and beyond for our customers and vet suppliers thoroughly, we cannot account for things going south on occasion. Yet, it is our company's brand reputation on the line.
Has this happened to your company or organization? How did you handle it to retain the customer (client, donor)?
Have you ever had problems with a vendor? Were you satisfied with the outcome of their efforts? Any advice?