e-advertising
Guest post by Matt Zajechowski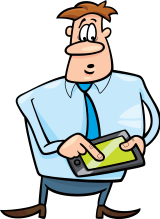 Successful mobile email marketing is rare. Companies catering to the laptop and desktop set often fail to adapt to the small screen revolution. Many try, but can't truly harness the power of integrating mobile culture with marketing campaigns.
The loss is tremendous since more than 40% of e-advertising sent to digital mailboxes every day is opened on devices such as smartphones and tablets, according to a study done by Reachmail. That statistic will only increase in the future as audiences conduct more and more leisure and business activities while on the go.
Commit the following faux pas and your company can wave good-bye to new customer prospects, substantial profit, and lucrative conversions.
1. Avoid issuing specific and visible calls to action.
Continue reading

→