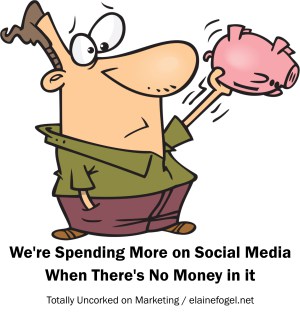 Yes, you read that correctly. There's very little money in social media marketing.
In fact, in a recent study by Regalix, a majority of B2B (business-to-business) respondents said that less than 10% of their revenue comes from social media marketing! Did you get that? It's a good thing a majority claim that they allocate less than 10% of their marketing budget on it.
Now, here's where there's a big disconnect:
Over half (52%) of respondents said they expect their social media budget to go up; while the remaining 48% felt it would remain the same.
Why then, would B2B marketers and business owners spend more (52%) or sustain (48%) their current social media marketing budgets when they're not generating revenue from it?
Full disclosure: If you read my earlier posts, I admit to being skeptical about social media marketing being the panacea many made it out to be.
So, what are they using social media marketing for?
94% of marketers chose increasing brand awareness as the key objective of their social media marketing efforts.
Lead generation was next at 69%.
Constant engagement was 67%.
And, what did they say the benefits are?
This is most telling:
71% of organizations said they were either not able to measure the ROI of their social media campaigns or were not sure how to; only 29% said they were able to measure it. (Ouch!)
My two cents:
Sure, I use social media marketing, but I agree with the findings of this study. It's challenging to evaluate its success and it isn't producing much revenue. Perhaps we need to reassess what percentage of our marketing budgets and time we allocate to it altogether?
How much time and money is your organization investing in social media marketing? Is it paying off?

My book, Beyond Your Logo: 7 Brand Ideas That Matter Most For Small Business Success is available in paperback and e-book worldwide! Click here for the list of booksellers where you can get

your

copy!
Share this post!
















Connect with me!








Liked this post? Follow my blog for more.