Social media marketing
The last thing we want to do when our friends post bad news is to click the "Like" button. We want to show support and empathy, but hitting "Like" seems counterintuitive. Yet, some of us do it anyway because there's no other option. Or, we feel obligated to write a short comment.
Well, Facebook may add a new button to allow us to sympathize with posts when it's appropriate.  Continue reading →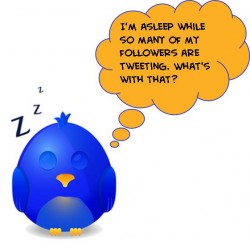 Sometimes I question the point of social media sites like Twitter. Most people relish the thought of having lots of followers, but realistically, how can anyone manage it?
As of this week, I have roughly 4900 Twitter followers. These were all organically gained - no paid services.
I follow the ones who have something in common with me professionally. In other words, those who tweet about marketing, branding, customers, and other business topics.
The funny thing about Twitter and others like it, is that tweets are visible for a fleeting moment in time. So, realistically, we can only access those people who are tweeting while we're checking our Twitter accounts.
So, if you have followers in different time zones, what are the chances that you'll ever see what they have to share? Unless you're like me, and you frequently wake up in the middle of the night with an overloaded brain and access to a tablet on your nightstand.
Very savvy peeps (like social media specialists) will pre-schedule their tweets and re-tweets to run 24/7. But, that's a lot of work that most people don't do.
Inevitably, we end up engaging with those who participate at the same times that we do. What a waste, isn't it?
Realistically, our tweets are but a fleeting moment in time. With this in mind, how effective can Twitter marketing be?
What do you think? Does it work for you?
Hold your breath! Why are we spending so much time doing social media marketing if two-thirds of Americans don't find it important? Say what?
A recent survey from Ipsos OTX says that only 32% of Americans aged 18-64 rated social's importance a top-2 box score on a 5-point scale. That makes Americans about 20% less likely than the average respondent across 24 markets to consider social media important to them. 
Other valuable stats as reported by MarketingCharts:
Social media scores higher among women (37%) and those under-35 (45%) in the US, but those figures also lag the corresponding global averages (46% and 50%, respectively).
American women are 32% more likely than their male counterparts to consider social media important to them (37% vs. 28%).
There is a clear downward trend in perceived importance as the age of the respondent increases, from 45% of 18-34-year-olds down to 34% of 35-49-year-olds and 17% of 50-64-year-olds.
Respondents from high-income households are 29% more likely than those from low-income households to consider social media to be important to them (36% vs. 28%).
Respondents with high levels of education are 24% more likely than those with low levels of attainment to find social media important (36% vs. 29%).
Business owners are 57% more likely than those who don't own businesses to consider social media important to them (47% vs. 30%).
Senior executives and decision-makers are also 57% more likely than respondents not in those positions to find social media important (47% vs. 30%).
So, what does this mean?
If you're marketing to American women and Millennial consumers, you should include social media marketing as part of your channel mix.
If you're marketing to American middle-aged and older consumers, you may need to explore multichannel marketing more.
If you're marketing to affluent and educated audiences, social media may be a sound part of your channel mix, but don't rely on it without other channels.
If you're marketing to business owners, senior executives, and decision-makers, social media marketing is a good bet, also with other channels to round out your mix.
Bottom Line?
Don't put all your marketing eggs in the social media marketing basket. Consider the other channels your audiences are in and use those, too.
Does this study surprise you? Why or why not?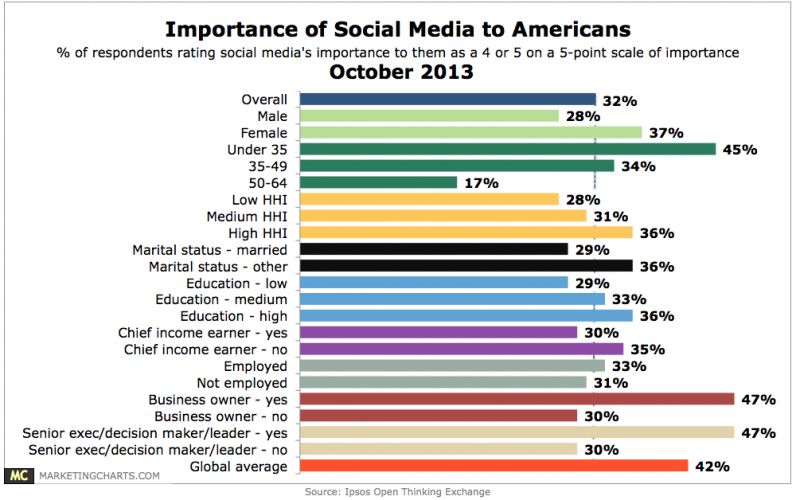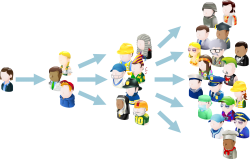 Many of us are tweeting and posting updates to a host of social media sites. But, how many know just how big (or small) our audiences really are?
Let's face it. Every time we post something, it appears for a fleeting moment in time, as other posts continue to flow. I've always questioned the rationale of using social media as a major marketing tool for any small business or nonprofit organization. You can't reach your targeted market segments using one channel alone.
I just read an interesting Stanford University study entitled, "Quantifying the Invisible Audience in Social Networks," that indicates we are underestimating our social media reach! In fact, half of (study) users want to reach larger audiences, but they are already reaching much larger audiences than they think. And why? Because we don't get enough feedback to know the size of our reach.
As this study focused solely on Facebook, the results show that users manage to reach 35% of their friends with each post and 61% of their friends over the course of a month. That's not a bad return on time investment.
Yet, there's still more research to do. A lot of people use Facebook for personal reasons which may not give us a clear picture when we use it for business purposes.
As far as using other social media sites, we don't yet have a measurement tool to gauge how many of our "followers' actually read our posts, updates, and tweets. So, when it comes to building brand awareness, acquiring and retaining customers (donors, volunteers, members, etc.) and other business objectives, we are still in the dark. That's not to be confused with how many followers, friends, or connections we have, but how many of our communications are actually reaching our target audiences.
Until then, I recommend using a multichannel marketing strategy. It wouldn't be sound marketing to put all your eggs in the social media basket anyway.
Are you using social media marketing exclusively? What have been your results?
Are you using a multichannel approach that includes social media marketing?  How are you measuring success?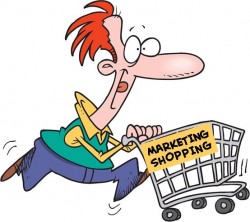 Content marketers want you to believe that content is everything in marketing now. Same thing with the in-bound marketers, mobile marketers, database marketers, SEO (search engine optimization) marketers, social media marketers, and so on and so on…
Marketing has embraced every new channel and technology that it changes at the speed of light. And, with those changes, comes specialists who claim that theirs is the best on the block for your small business or nonprofit organization.
How can anyone in marketing claim that one channel or one method is the "be all and end all?" 
Let's say that you are planning a dinner party that includes your boss and your immediate team. What's your objective?
Is it to impress the boss so s/he considers you for a promotion? Is it to prepare for requesting a raise? Is it to show your appreciation?
Whatever your goal is for this dinner party, your menu, table décor, room ambiance, and appearance will affect the outcome. You prepare a shopping list and hit the stores.
Everything you select has to be 'just right.' The combination of every element must blend well. You wouldn't serve meat loaf if you set a formal table. On the other hand, you wouldn't serve foie gras if it's a casual backyard dinner. You'd look for a good balance of components to set the tone. It's the same thing in marketing.
Why would you rely on one marketing channel at the expense of the others?
What was the most important part of the dinner party story? If you guessed the shopping list, you were right!
Every business and organization needs to create its own marketing shopping list based on its overall objectives. The list cannot be plucked from anywhere. It needs to rely on science.
Got a few bucks? Hire a marketing researcher.
Short on cash? Read up on conducting online surveys and how to construct questions.
Run a couple of informal focus groups. Ask your existing (and prospective) customers — clients, patients, patrons, donors, volunteers, students — pertinent questions that help you understand what motivates them to use your products or services or support your nonprofit. Discover what their preferred communications channels are. Ask them if they have referred your organization to others and why.
Once you understand what makes them tick, where they get their information, why they like you (or don't), and more, only then can you create your marketing shopping list — your marketing strategy and tactics.
So, if you're feeling pulled in multiple marketing directions, take a pause. Make sure that every strategy and tactic you employ helps to reach your objectives.
Why waste time, effort, and money on things that may, or may not work? Wouldn't you rather make better informed decisions?
Do you feel pulled and influenced by multiple marketing directions? What are you going to do about it?