coupons
In a new study by Brandmuscle, hundreds of local dealers, agents and franchisees across a wide range of industries indicated that "traditional media (newspapers, magazines, radio, television, yellow pages, coupons and billboards) continue to play a significant role in local marketing."
Respondents rated their level of satisfaction with a variety of traditional marketing tactics. Surprisingly, they chose coupons as having the greatest satisfaction, with newspapers having the least. Coupons performed well in terms of overall satisfaction and were the most widely used tactic with 83% of respondents using them and 77% of those saying they were either somewhat or very satisfied with the results.
Interesting that daily deals like Groupon, had just 29% of respondents using them and nearly one in four stating they were "least satisfied" with the results. Daily deals also topped the list of tactics that affiliates felt were "too risky" (14%).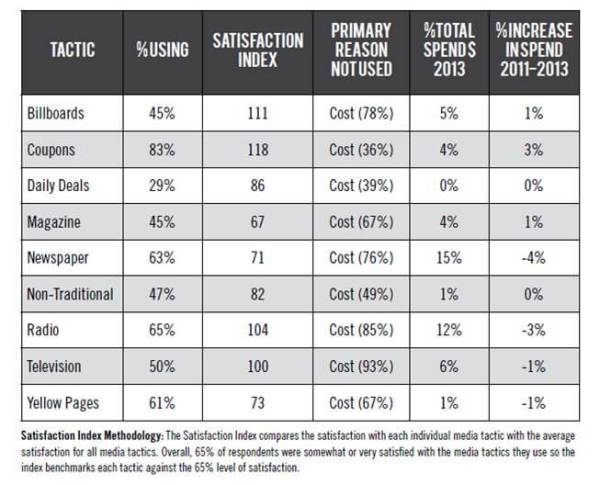 Other Data to Note:
American women are in love with coupons, declares a March 2012 report from Valpak, which finds that 70% of survey respondents enjoy saving money and believe couponing is as American as apple pie. In fact, 58% have increased their coupon habits over the past few years.
Top reasons women give for increasing coupon use:
They always want to get a deal (60%)
It's a bad economy (59%)
They enjoy trying new things with a discount (41%)
And, get this. A significant proportion also say that coupons make them feel smarter. (28%)
What women do with their extra savings:
Save it for a rainy day (29.3%)
Put it towards their child's education (24.2%)
Spend it on some fun (16.3%)
Spend in on the home (15.1%)
Give it to family (8.2%)
Give to charity (4.8%)
So, if you're targeting women in your organization, these stats can provide some good copywriting ideas.
Source: MarketingCharts