return on investment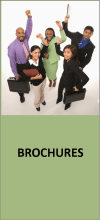 Print marketing materials? Remember those? The ones you can touch and feel?
Well, printed materials may have lost some luster since the advent of digital marketing, but, know this…. they are experiencing a resurgence. Marketers are realizing that branded print collateral can be an integral part of a sound marketing mix.
First of all, check out these surprising stats about print: Continue reading →