marketing mix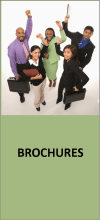 Print marketing materials? Remember those? The ones you can touch and feel?
Well, printed materials may have lost some luster since the advent of digital marketing, but, know this…. they are experiencing a resurgence. Marketers are realizing that branded print collateral can be an integral part of a sound marketing mix.
First of all, check out these surprising stats about print: Continue reading →

If you think the print newsletter is dead, think again! I receive several every month and even though I don't read them all thoroughly, I do scan them for items of interest. Plus, the senders are getting my top-of-mind attention, even for a few seconds or minutes.
With so many emails and spam overwhelming our inboxes, direct mail marketing is gaining more attention. According to a 2012 Epsilon study, 73% of U.S. consumers and 67% of Canadian consumers said they prefer direct mail for brand communications because they can read the information at their convenience. Additionally, 62% of Americans and 63% of Canadians said they enjoy checking the mailbox for postal mail.
Check out these other stats:  Continue reading →