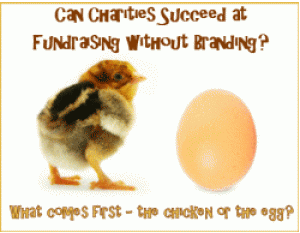 Many charities depend on fundraising for operational revenue. But, how many could be making more money if they invested in branding?
"Branding?" many ask. "We have a logo. What else is there?"
OMG… so much more! A charity's brand is way more than a logo, colors, font styles, and its look. It represents every single touchpoint in the organization.
What does that really mean?
It means that all employees and volunteers understand that their behaviors, attitudes, and mindsets are brand touchpoints for stakeholders, aka nonprofit customers. It means that every phone call, email, meeting, program, service, piece of fundraising collateral, social media post, and exchange are part of the organization's brand reputation. If any of them sucks, it can erode that brand.
Here's an example:
Sarah inherits $250,000 when her uncle passes away. After the mourning period, she's ready to allocate some of that money to his favorite causes, as he had instructed her to do.
She places her first phone call to Charity A to advise it of her pending gift and to ask a few questions. After four rings, an automated voicemail kicks in with a long-winded message outlining several contact options. You know the ones… for X program, press 1, for Y service, press 2.
None of the options includes, "If you'd like to make a donation, please press…" Ouch.
She hangs up and visits the charity's website to see if she has better luck. Nothing on the home page leads her to donation information.
She digs around for a mission statement, financial information, or anything to demonstrates where her uncle's money could do the best good. Nada.
Now, I ask you? Should Sarah find another charity, with a similar mission, that is more accessible and customer-focused?
Perhaps an organization with a human answering the telephone who greets her warmly. Maybe this human asks how he can help Sarah.
When Sarah tells him the reason for her call, the human expresses his sympathies on her uncle's passing. He asks her to wait on hold for a moment and contacts a fundraiser who will take Sarah's call immediately instead of forwarding her to voicemail.
The fundraiser takes Sarah's call and extends her condolences. She asks Sarah about her uncle, what he was like, what he did, and what he cared about. They have a conversation focused on Sarah's relationship with her uncle. Sarah sheds some tears and appreciates the fundraiser's interest and compassion.
And, all this time, the fundraiser does NOT ask for money!! She appropriately waits until Sarah states why she's calling.
This organization "gets it." It understands that every interaction is a brand touchpoint and can win the hearts and minds of its supporters.
So, I'll ask again.  Can charities succeed at fundraising without branding? What comes first - the chicken or the egg?
Thanks to T.E. for the inspiration for this post. 
Share this post!
















Connect with Elaine!








Liked this post? Follow this blog to get more.
4 Responses to Can Charities Succeed at Fundraising Without Branding?