women business owners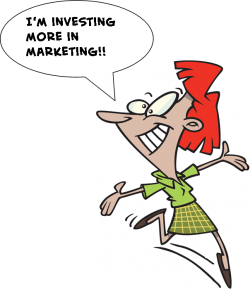 Women business owners get it - marketing is bound to make a big difference in their businesses. According to a national survey of women business owners (WBOs) conducted by Web.com Group, Inc. and the National Association of Women Business Owners (NAWBO), nearly three quarters (73%) of WBOs plan to invest more in marketing in 2013.
Specifically, they will invest in social media marketing (36%) and search engine optimization (SEO) (36%). In fact, nearly half (44%) predict that social media and SEO are the future of small business marketing.
Interestingly, WBOs anticipated that traditional outreach approaches, including print and direct mail (1.6%), online advertising (4.4%) and email marketing (6.2%), will have less impact on small business marketing in the future.
When considering what marketing tactics currently have the greatest impact on a business' bottom line, more than half (52%) of respondents indicated that website design and maintenance was very important, followed by social media marketing and SEO (38%) and email marketing (25%). WBOs also indicated that LinkedIn (27%) is the most valuable social media platform to them, followed by Facebook (26%), YouTube (18%) and Twitter (17%).
If you're a woman business owner, do you agree with the majority of respondents in this survey?
If you could advise these respondents about marketing their small businesses, what would you say?


Kudos to American women business owners! "The State of Women-Owned Businesses Report: A Summary of Important Trends, 1997–2012 " commissioned by American Express OPEN, demonstrates that the rate of growth in the number of women-owned enterprises over the past 15 years remains higher than the national average—currently the number of women-owned firms is growing at 1½ times the national average.
Check out some of the accomplishments:
Women-owned and equally owned firms together represent 46% of U.S. firms and contribute 13% of total employment and 8% of firm revenues.
The industries with the highest concentration of women-owned firms are: health care and social assistance (53% of firms in this sector are women-owned, compared to a 29% share overall), educational services (45%), other services (40%), and administrative and waste services (37%).
Women-owned firms are standing toe-to-toe with their industry peers—meaning that an equal share of women-owned firms in the sector are generating in excess of half a million dollars in revenues annually—in two industries: construction, where fully 13% of women-owned firms and 11% of all construction firms are pulling in $500,000+ per year; and in transportation and warehousing, where 6% of each are generating $500,000 or more in revenues.
Women-owned firms have largely held their own against the recent tide of very large corporate growth, however, faring much better than all other privately held firms.
Women-owned firms match overall sector growth in four industries: administrative and waste services, professional/scientific/technical services, transportation and warehousing, and accommodation and food services.
So, let's collectively salute the women who have made tremendous "progress in a difficult economic environment." Wuhoo!