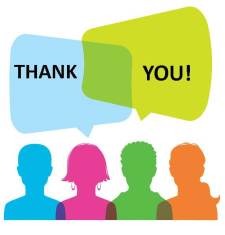 Does your business or nonprofit organization monitor the Internet for social media mentions? Good and bad references affect its brand reputation, so knowing what people say - and replying - are very important.
Besides, if your goals are to increase leads and sales (or donations), build brand reputation, and improve search rankings, every response you make contributes.
Since, I've blogged on social media complaints (Are You Responding to Social Media Complaints? and How Do You Handle Social Media Complaints?), I'd like to focus on the lowest hanging fruit - positive comments and references, as these are the easiest to manage.
Why you should say thanks… 
In my opinion, your reply demonstrates appreciation publicly. Depending on the nature of the mention, you can say a quick thanks by re-tweeting, liking, sharing, or +1'ing it. If the comment was special or lengthy and/or included a link, say thanks in a quick comment, too.
Adding your online thanks not only gives your business or organization exposure, it gives others a link to its site, helping to improve web traffic. Maybe these new visitors will discover your products, services, and/or mission and explore further? Maybe they'll sign up for your newsletter?
Your show of appreciation makes your brand likable online. Forbes contributor, Amy Rees Anderson, says, "People ultimately choose to do business with people they like, and everyone likes someone who appreciates them." (This can also apply to others who feel good after reading your comment.)
Saying thanks has the power to create friendships and loyalty, adds Anderson. After all, isn't an important marketing objective to expand your reach to target audiences and referral sources? The more friends, followers, and fans, the greater your chances of achieving that.
Your appreciation can give you, and the brand you represent, increased credibility and respect. As long as your sentiments are genuine, you'll be personalizing your brand and giving it human characteristics.
Of course, you can say thanks offline in a private way. That's OK with the exception of one thing. On many social media sites people can read and follow threads. When you don't reply in the same channel, others may notice the omission. By not replying publicly, you risk leaving a poor brand impression.
So, if you haven't been using social media monitoring tools to alert you when your name or brand appears, it's time.  Ian Cleary, founder of RazorSocial, posted a list of 7 Multi-Platform Social Media Analytics Tools. Check it out.
Do you regularly respond to positive social media mentions? Do others thank you when you write something positive?
Share this post!
















Connect with me!








Liked this post? Follow my blog for more.
0 Responses to Why You Should Say Thanks for Positive Social Media Mentions