Advertising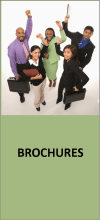 Print marketing materials? Remember those? The ones you can touch and feel?
Well, printed materials may have lost some luster since the advent of digital marketing, but, know this…. they are experiencing a resurgence. Marketers are realizing that branded print collateral can be an integral part of a sound marketing mix.
First of all, check out these surprising stats about print: Continue reading →
When I heard this story and watched the newly-released response video, I got goosebumps all over. I knew I had to share it with you.
Backstory:
In early March, Honey Maid launched a 30-second TV spot entitled, "This is Wholesome." The spot featured diverse and loving families -interracial, gay, white, black, brown, and a dad covered in tattoos. It represented what North America really looks like.
Soon after, a barrage of angry messages arrived. "Disgusting," "Do not approve," "Horrible."
So, here was Honey Maid's amazing response:  Continue reading →