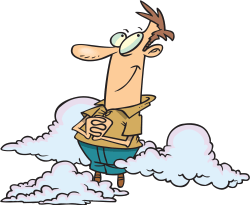 When my nonprofit marketing colleague, Nancy Schwartz of the Getting Attention blog, asked me to write about my dream for the nonprofit community this year, it didn't take long to come up with one. In reality, I could write an entire book on the subject, but I narrowed it down to one dream.
My dream is for donors and nonprofit leaders to recognize that charitable organizations cannot thrive and live their missions without an investment mentality. During the economic downturn of the past few years, many nonprofits came to realize that they must compete with gazillions of competing messages for attention and donations. The "smarter" ones recognized that they couldn't do that in a vacuum without investing something in marketing.
Marketing is NOT a frill, a luxury, or a waste of time. Marketing communication gets donors' attention through multiple channels: e-mail, social media, print collateral, advertising, etc. If I had a dollar for every time I heard a fundraiser say, "We're the best kept secret in town," my bank account would be richer.
In so many ways, being the best kept secret is a sign of defeat. It means that the organization has no real strategy for generating revenue. Maybe it's operating from hand to mouth. Maybe its plan is a wish and a prayer to stay alive for another year. Perhaps, it relies solely on event fundraising. But, is that a clever business move?
Operating a nonprofit is akin to running a business. It takes the same infrastructure as any business: physical location, employees, I.T., finance systems, and more. Ideally, each organization should have a business plan, marketing plan, and fundraising plan. Yet, many don't.
Passion and dedication on their own cannot guarantee success. Investing in marketing the organization contributes to its brand awareness, sustainability, and growth. When donors learn about the mission, understand the value of the charity's programs and services, and relate to the nonprofit's stories of success, only then can the nonprofit build momentum.
This does not necessarily require big bucks either. There are countless inexpensive and yes, free ways to market a charitable cause.
Educating donors is everyone's responsibility in the nonprofit sector. Apologizing for investing in marketing devalues its worth. Most consumers recognize that every product and service they purchase is a result of marketing. We need to help them understand that there is no difference in the nonprofit sector.
It's a good time to reiterate one of my sayings:
No marketing, no money, no mission.
Let's spread the word to charities and donors and help do some good!