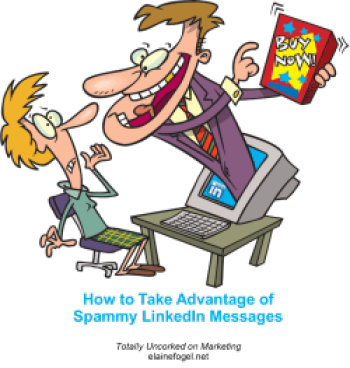 Have you been receiving more spammy LinkedIn messages these days? I know that I am.
Receiving broadcast sales messages from fellow group members and other individual members not only defeats the entire purpose of LinkedIn, it is annoying!
LinkedIn Purpose:
"Our mission is to connect the world's professionals to allow them to be more productive and successful. Our services are designed to promote economic opportunity for our members by enabling you and millions of other professionals to meet, exchange ideas, learn, and find opportunities or employees, work, and make decisions in a network of trusted relationships."
LinkedIn User Agreement:
"8.2. Don'ts. You agree that you will not: Post any unsolicited or unauthorized advertising, "junk mail," "spam," "chain letters," "pyramid schemes," or any other form of solicitation unauthorized by LinkedIn."
It's gotten to the point where I procrastinate reading my messages because I know that many of them will be spammy in nature.
So, what to do?
Well, as I see it, you have five (5) choices. Continue reading →