engaged employees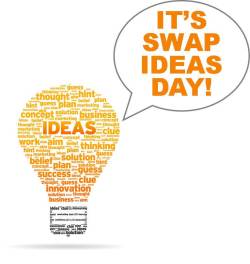 Today, September 10, 2014 is Swap Ideas Day! According to the Days of the Year website, the idea behind Swap Ideas Day is that everybody gets together to exchange ideas.
"People celebrate this occasion by connecting with other people to share thoughts and concepts. There are no rules outlining the nature of the ideas to be shared, thus making Swap Ideas Day an ideal opportunity for people to be as creative and wacky as they like with their ideas as well as learning from the ideas of others."
Time for all you marketing-minded people to get creative! Here are 5 suggestions:  Continue reading →
There are increasing statistics that show your employees can make or break your small business or nonprofit organization. The latest study from Dale Carnegie and MSW digs further into what creates engaged employees, and what key attributes are present within these engaged employees.
To me, the most important take-away is this one fact:
Companies with engaged employees outperform those that don't by up to 202%!!!
You'd think that most organizations would focus on their employees in order to do better, right? Then, how come 71% of employees are NOT fully engaged at work and $11 billion is lost annually due to employee turnover???
So, what are the characteristics of an engaged employee?
Enthusiasm

Inspired
Empowered
Confident
And, how can your small business or nonprofit accomplish this? Well, internal marketing can play a large role. Your employees are your first market and can be your org's best brand ambassadors.
The study's authors provide five tips you can see below in this excellent infographic.
Take a look and then share some best practices that demonstrate how your organization engages its employees.