articles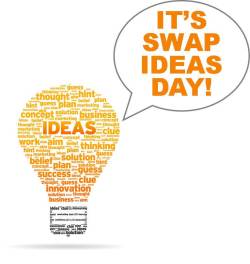 Today, September 10, 2014 is Swap Ideas Day! According to the Days of the Year website, the idea behind Swap Ideas Day is that everybody gets together to exchange ideas.
"People celebrate this occasion by connecting with other people to share thoughts and concepts. There are no rules outlining the nature of the ideas to be shared, thus making Swap Ideas Day an ideal opportunity for people to be as creative and wacky as they like with their ideas as well as learning from the ideas of others."
Time for all you marketing-minded people to get creative! Here are 5 suggestions:  Continue reading →

Are you doing it? Or have you been "thinking" about it? The longer you wait, the more there are out there!
Blogging is a great way to build search engine optimization for your company or nonprofit and produce quality content that gives your org credibility. It's also an excellent way to engage with your market segments. Today, content is king (and queen) and anyone can start creating it.
Here are three important things to know before you begin blogging:
1. Research other blogs. This is very important. See what you like and don't like and take notes. Which design "looks" will go with your brand identity? (There are many free and low-cost blog design templates available.)
Read blogs that cover content similar to what you intend to write. What motivated you to read it?
Ask people you know what they think about their blog software? Here's a good review of all the major programs.
Look at the widgets on other blogs to see what you may want to include. Blog widgets enable bloggers to add cool features, useful functions, and more to their blogs in an easy way.
2. Don't blatantly sell or promote in your blog posts. Readers will see through that and they won't subscribe. Instead, give your prospects, customers, donors, and members good ideas for using your products or services in a generic way or supporting your mission. Become a leader in your field. The more you give, the more people will recognize your expertise.
3. Start small and grow your blog. Writing every day is great, but may be overwhelming at first. Include links to your blog posts in your social media accounts. Use them on your Web site and in newsletters.
Read articles and posts on blogging to continue to learn and hone your ability. Here are a few to get you started:
10 Free eBooks that Will Help the Blogger in Your Life Kick-Ass
How to Blog: Blogging Tips for Beginners
P.S. If you need a custom design for your blog or help to get you started, just contact me. (See? That wasn't blatant, was it?)