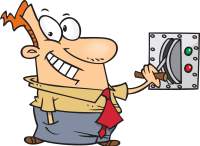 After listening to a speech by the president and CEO of the Association of Fundraising Professionals (AFP) this week, I am feeling encouraged. Andrew Watt "gets it."
The Scottish-born public policy and fundraising expert has lived in the U.S. since 2006 - enough time to bring his European perspective and humor to the fundraising profession. His take on the American election and politicians' overall lack of understanding of the role charitable organizations play in our communities, was astute yet disappointing.
Watt has worked hard to build coalitions among organizations focused on philanthropy - to advocate for the sector in DC, to emphasize the importance of tax deductions for donors, and to raise awareness of the vast contributions and impact that nonprofits make to the world every day.
Unfortunately, he and his cohorts have a lot more work to do in getting Washington's attention.  Lobbying and access cost money - not so easy for nonprofit entities to do.
Watt made several strong points about the shift the charitable sector needs to take in order to sustain its impact. I will merge his points with mine to give you 3 things nonprofits and fundraisers can do to shift paradigms.
1. Nonprofits will benefit from a focus on creativity, innovation, and calculated risk taking. (Watt)
I, too, believe embracing innovation can solve more problems than sticking with the "usual" way of doing things. The world has changed drastically.
Technology allows us to communicate with constituents and prospects in ways we never could previously. It's now a two-way conversation from which nonprofits can listen and learn before brainstorming new ways of tackling problems.
Taking calculated risks can give nonprofits an entrepreneurial approach that can win big, when successful. But, they shouldn't shy away from making mistakes out of fear.
2. Nonprofits will benefit from embracing a customer-centric mindset. 
Watt believes that in order to solve the problems of tomorrow, "we will need to connect with people the way that they want, at their level of philanthropic interest, in settings and issues that matter most to them."
I believe that this requires a customer-centered paradigm built into the organizational culture. Just like it is in business, nonprofits cannot retain their customers (donors, volunteers, funders, etc.) if they don't place them at the center of every decision and action.
3. Engage employees for better retention, commitment, and sustainability.
There's something wrong with a sector that has a two-year fundraiser turnover rate. What can anyone accomplish in two years when relationship building is at the heart of fundraising?
And, to make matters worse, how many nonprofits hire fundraisers with high revenue-generating expectations and then don't give them an ample budget to enable success? That's counter productive.
When nonprofits begin to treat their employees as their first market, great things can happen. Empowering them, honoring them, and rewarding them will turn them into devoted brand ambassadors who will stick around longer.
What do YOU think? Do nonprofits and fundraisers need to shift paradigms?
Share this post!