donor retention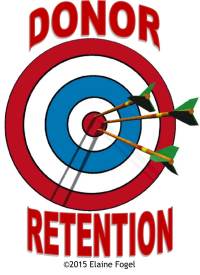 If you work or volunteer for a charitable organization, you may not know that the median donor retention rate in 2013 was only 43%. That means only 43% of donors who made a gift in 2012 did so again in 2013.
According to an article in The Chronicle of Philanthropy, based on The 2014 Fundraising Effectiveness Project report, "For every $100 in new donations the 3,576 groups in the survey received in 2013, they lost an average $92 from supporters who failed to give again and others who contributed less than they had previously."
And, even though the retention rate represents a slight increase over the previous year, it is still a big red flag for charities. It reinforces my saying:
No Marketing. No money. No mission.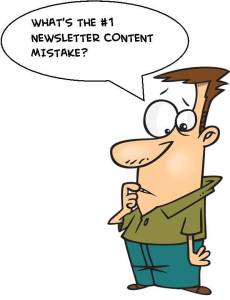 What makes good or bad newsletter content? I'm sure we all have differing opinions. One thing, upon which we may be in agreement, is that newsletter content needs to provide us with relevant content.
According to the Content Marketing Institute, "The days of boring newsletters with regurgitated business information are over. Now, it's all about engaging your audience in a meaningful way beyond traditional advertising.  Newsletters provide a perfect opportunity for content marketers to get their message out."
Neal Schaffer, author, speaker, and social media strategist adds, "Creating good content for your website, blog, and newsletter is key if you want to continue to attract customers to your digital assets."
Good newsletter content should appeal to your audiences, and you may have more than one. For example, I write two newsletters every month - one for business professionals and one for nonprofit professionals. The content may occasionally overlap, but for the most part, each is relevant to its audience's needs and interests.
There are, however, some newsletters that don't follow the basics of content marketing. In fact, they make the #1 newsletter content mistake.
It's all about them!
Here's an opener from a recent newsletter I received:
"I am pleased to announce my new book…"
The content consisted of this individual's new book launch, his upcoming presentations, his media coverage, and a promotion to purchase his new book. That was it. It was ALL about him!
It had no personality - no semblance of a personal brand. No offer to read a free excerpt from the new book, and no beneficial information for the reader. I will guess that many recipients have unsubscribed.
Content marketing can have a multitude of objectives. Here are just a few:
Engage and inform

Customer/donor acquisition/retention
Lead generation
Keep top-of-mind/brand awareness
Demonstrate your thought leadership
Show accountability to members/donors
Employee information sharing and engagement
Drive traffic to your Website, blog, or landing page
Increase event attendance
One thing you won't find in any content marketing book, article, or post, is advice to just talk about you, your business, or your organization!
Have you ever received a newsletter that focuses too much on the sender? Please share your thoughts.